Rangement des outils et du matériel de chantier
armorgard

Oxbox
View Video
OxBox est une gamme intermédiaire de coffres à outils sécurisés. Son prix compétitif ne fait aucun compromis sur la qualité : comme toutes les solutions de stockage de chantier Armorgard, Oxbox est équipé de serrures de sécurité et de toutes les caractéristiques anti-effraction qui en font les références du marché. Fabriqué à partir de tôles d'acier de 1,5 mm et 2,0 mm d'épaisseur, OxBox est disponible en 6 tailles et offre une sécurité fiable et économique pour vos outils et équipements de chantier.
les points forts du produit
simple d'utilisation pour ranger vos outils
bon rapport qualité-prix
niveau de sécurité - argent
Choisir son modèle
caractéristiques & spécifications
Serrure à mortaise 5 leviers avec clés de type Chubb identiques des deux côtés et numéro d'identification de sécurité
Clés de remplacement disponibles à l'aide du numéro d'identification
Vérins à gaz robustes et conformes aux normes industrielles
Tôle d'acier de 1,5 mm et 2 mm
Passages de fourche avec emplacement de fixation pré-percé pour faciliter l'ajout de roulettes (sauf ox05, ox1, ox2, ox6)
Utilisable sur chantiers ou dans les véhicules utilitaires et camions
Revêtement poudre époxy pour une durabilité maximale
6 tailles disponibles
accessoires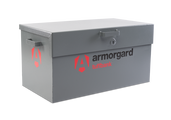 Tuffbank

Tuffstor cabinet
avis
Avis sur Oxbox
OxBox OX1

Does exactly what it says on the tin and is the perfect size

Good box

Good solid box

Recommendation

Was recommended by someone who already had an armorgard box for years.

Solid

It looks like a solid piece of kit

Quality products

Excellent reviews. Top quality products. Great customer service.

Secure box

The most secure box I could find.

Big enough

Only vault we could find that was big enough for our requirements

Leading brand

Leading brand

Perfect

Perfect size, perfect weight.

Reasonable price

Was after small site box for reasonable price. This one fitted my spec.

Serial number cut keys

THE ABILITY TO GET SERIAL NUMBER CUT KEYS, VERY COMPETITIVE AGAINST VAN GUARD

Good

Good offer better than van vault.

Insurance requirements

Product fits our insurance requirements.

Recommendation

Recommendation from a friend. Double locks on smaller boxes should be a standard.

Safe

I want the tools I manage to stay in a very safe place. Padlock point would be useful.

Optional compartments

Optional compartment sections would be helpful.

To transport tools securely

To transport tools securely too and from site and as a secure place for storing valuable items.

Good deal

I got a deal from the company I bought it from and had been told they are the better range of safes.

Strong & Reliable

Strong & Reliable

OX2

I needed a secure box, which is just big enough to take my large 24" petrol hedge trimmer. Everything else was either just too small or way too big! Would be nice to have it drilled in the base to secure it down to a floor.

OX05

Security and price.

Robust tool box

If hire company uses your product, must be good. Wanted a tool box that is robust.

Recommendation

Mate recommended.

Good size box

Looked like a good size box to put in the van or leave on site. Not too big, not too small...

Best

Recommendation from satisfied customer. Best product for the job. So good, I bought two.

Safe and sound

we have been working on a large contract in london and suffering some very expensive loses due to theft since purchasing our new ox boxes no more loses great addition to our company we now have 12 of these boxes great service and quick response to any inquiry well done armorgard keep up the good work

OX05

Saw it in a shop and looked solid.

Good size

It appeared to be a good price and durable safe site box at the size we required.

Oxbox

Used your products when I worked at Speedy and the grey colour doesn't attract as much unwanted attention as the yellow competition!

Good products

Good products at good prices and good comments from other buyers. Very happy my tools locked away now. Van security is a weak link these days so have to stop others getting my tools.

OX1

Very good reviews and looks tuff and nice design.