Rangement des outils et du matériel de chantier
armorgard

Tuffbank
View Video
TuffBank est une gamme de coffres sécurisés pour le rangement sur chantier ou dans les véhicules utilitaires. Grâce à sa structure en acier et à la technologie anti-effraction unique à Armorgard, vous pouvez stocker vos outils et matériel de chantier en toute tranquillité. TuffBank est disponible en 8 tailles. Son excellent rapport qualité-prix et les meilleures performances de sa catégorie font du coffre de chantier TuffBank la référence du marché.
les points forts du produit
la référence du marché pour le stockage sécurisé sur chantier
niveau de sécurité - or
rapport qualité-prix exceptionnel
Choisir son modèle
caractéristiques & spécifications
Serrures à mortaise 5 leviers avec clés de type Chubb identiques des deux côtés et numéro d'identification de sécurité

Clés de remplacement disponibles à l'aide du numéro d'identification

Systèmes anti-effraction interne et externe : fermeture du couvercle par emboîtement et charnières renforcées entièrement soudées

Vérins à gaz et cran de sécurité de série, conformes aux normes industrielles
Construction robuste en tôle d'acier à usage intensif de 2 mm et 3 mm

Passage de fourche avec emplacement de fixation pré-percé pour faciliter l'ajout de roulettes(sauf TB1 et TB12)

Utilisable sur chantier ou dans les véhicules utilitaires et camions

Revêtement en poudre époxy pour une durabilité maximale

8 tailles disponibles
accessoires

Tuffstor cabinet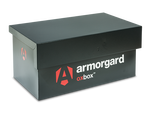 Oxbox
avis
Avis sur Tuffbank
Tuffbank

Well made, strong enough, double lock which is great and a good strong heavy product.

Tuffbank TB2

Best products on the market, in my opinion

Good product range

The product range is better and the quality is good.

Good reviews

Was planning to buy van vault, after reading reviews decided Armorgard was a superior product. Slightly more expensive but hopefully won't ever need replacing.

Tough and reasonably priced

I was looking for something tough and well made and very secure whilst being very reasonably priced.

Looks quality

Armorgard because it looks quality and I think good value for money, hope it will last long and our tools will be in the safe place.

Price, size, reviews

Chosen because of price, sizing and reviews

Tough and reliable

Looked tough and reliable.

Toughest

Seemed to be the toughest looking on the market.

Best

The best on the market.

Rocommended

Recommended by my supplier.

Best on the market

Great Product I think its the best on the market.

Solid Product

Good solid product - saw another contractor on site using one.

Better

Better than van vault. Also replacement keys available.

Done my research

I have done my research and armorgard was the only site box to keep my tools safe. In my eyes best box on the market.

Stronger

Stronger steel and lock.

Reviews and recommendations

Very good reviews on the internet and recommended by other tradesmen who own armorgard product's.

Previous experience

Previously purchased products and are very satisfied.

Safety

I wanted my tools locked away safely.

Better than others

From my 13 years of experience in construction industry Armorgard toolboxes have always been better than others..

Very pleased

Good product and reputation, very pleased.

Van security

Van security needed due to stolen tools.

Solid and weather

Have used hired Armorgard boxes in the past and found them solid and weather proof.

Transit of tools

Used to secure transit of tools to dockyards, vessels and platforms globally

Tool storage

Product bought to store tools on the back of a flatbed transit van.

Design

Liked the design

Best solution

It offered the best solution to our requirement.

Truck box

Got it to secure tools on back of truck. Would be useful to get instructions/guidance on how to secure box to vehicle.

Van box

Perfect size for the space in my van, however gas strut could be closer to the edge of the box, so as not to reduce storage space.

Good spec.

Liked the spec of the product. Company details on the box would be useful.

Storage dividers?

Fits my requirements. Well built & recommended. However, storage dividers would be great - I'm lazy!

Bigger range

Best I could find. Strongbank range needs bigger products.

Great protection

Great storage for the money, good lock and great protection. Option to attach chains, would be useful.

Solid bit of kit

Been told they are very good and solid bit of kit, I haven't doubted that yet.

Good value

Good value. would be good to get some stickers to put outside of van.

Solid

Been told they are very good and solid bit of kit, I haven't doubted that yet.

Looks good

Looks good. Excellent service, nothing exactly to add, could have put a pack of sweets in the chest:)

Best for tools & fixings

Best for tools & fixings on site. Would be handy if removable shelves to fit the L angles already installed.

Easy transportation

Most secure box for easy transport around workplace , when needing to be mobile.

Strong box

Looks strong box. Handles could be round, better for carrying.

Best product

The best product I could find. Plus, replacement keys and locks service.

Cost effective

Cost effective

Strong & Practical

Strong practical tool box solution. Would be good if TB1 would have forklift skids.

The best

Its the best on the market.

Best fit

Best size to fit in my van at the best price.

Fit for purpose

Purchased three Armorgard Tuffbank TB1 van boxes to go into our new fleet which seemed fit for purpose.

Exactly what I needed

Looked at many companies & decided the Tuffbank was exactly what I needed to secure my tools . Heavyweight, strong and lots of good reviews.

Safe & secure

I heard it was a safe and secure product to keep my valuables protected.

Strong reviews

Strong reviews, looks better than Van Vault. Vault looks like it's well constructed and could keep potential thieves at bay. Instructions on fitting into a vehicle would be helpful.

Good reputation

Good reputation and looks strong with the lever deadlock rather than a padlock version.

Simple

I needed a tough tool box that I could trust. It had great reviews and was reasonably priced. That's why.

Best reviews

Best product reviews I've seen online for these type of products.

Best product I could find

Best product i could find. Twice as thick steel than other tool vaults. Security far better with the double lock on the corners, was the main reason for buying! Would definitely recommend to friends & workmates.

Brand to trust

Value for money and a brand to trust.

Well respected

Well respected by the building trade.

Love it

Love my tuffbank it?s massive and so much better than my old van vault the lock seems a lot stronger and the lid is a lot stronger

Highly rated

Spoke on many forums and they are highly rated compared to other vaults. Also highly recommended by friends and forum people.

Best on the market

Armorgard boxes are the best on the market, we have had several over the years and haven't had any trouble with any of them.

Best durability

This will be the fourth box that we have purchased and they have proved that they are the strongest and have the best durability.