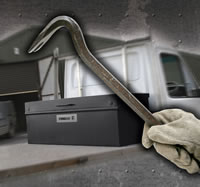 Theft and vandalism are two problems that plague virtually every construction site. From pilfering of small power tools to theft of heavy duty equipment, these activities cost the construction industry an awful lot of money.
The total value of stolen equipment each year is in the region of £600m and £1b*. This calculates to be between £1.6m and £2.7m a day! – Secure storage may be a very small price to pay. Armorgard are here to here to provide YOU, and YOUR customers with 'Proven Secure Storage Solutions', leading the way to a safer and more secure working environment. With a vast range, suitable for every requirement, size and budget, Armorgard have the solution. Together, we can beat the thieves.
The cost of stolen goods is often more extensive than just the initial loss of the goods stolen. These include:
Insurance premium increases
Project downtime
Damage to property
You should never underestimate the cost of construction site theft, and secure storage on construction sites cannot be over emphasised. An experienced site manager said "As a victim of construction site theft, I can only emphasise the necessity of taking site security seriously. This is a major issue facing the construction industry today and pro-active measures must be taken."
*The range is so vast due to incomplete theft data, however, whatever figure you pick in this range; it shows that there is a worrying problem.